You feel as if you are not living the life of the person you were meant to be. You are drawn to… something. You can't quite put your finger on it. Have you ever considered the possibility you were born to be a witch? Here are the telltale signs that you are a natural witch.
Being a witch doesn't mean you have to practice witchcraft or curse people. You don't have to announce to the world that you have now taken up the mantle of a witch. You could express it in the smallest of ways: become aware of the moon cycles, grow herbs, and begin to live a more natural, greener life. No one has to know that you are growing into the true expression of the real you: the witch that is desperate to emerge.
A witch, quite simply, is a wise woman. A woman in tune with the earth and her soul. She may have psychic abilities, or feel that the dead are existing close by on another plane. Dark places hold no fear, creatures of the night seem like friends. Animals and babies are drawn to her. A witch knows that the world is a crazy mix of positive and negative. Not black or white, but shades of gray. She does not accede easily to authority. She believes that everyone has the right to do as they want as long as they harm none.
15 Signs You're a Witch
You feel it. As you read the words above, you just knew the idea of being a witch resonates with you. It's as if you suddenly tapped into a certain knowledge of who you really are.
The idea of being a witch causes you to feel as if you are reclaiming your heritage. It's a connection back through the female line, way back to your ancestors.
You have a strong, well-developed intuition. You just know stuff. You follow your gut feelings and they are rarely wrong.
You aren't fazed by death. Those who have left their bodies are right here in spirit and have simply returned to be part of the whole, as we all are.
Your femininity isn't defined by fashion and trivialities. It wells from you like an inner strength. It's not pretty.
You know that your sexuality connects you to the cycles of the earth. Its raw power has an energy you can use. It's nothing to be ashamed of.
You believe in magic and things you cannot see. Energy can be manipulated and used for good as well as bad. You feel the energy pulse through and around you.
You can neatly determine the atmosphere of any place or gathering. In certain places, you feel a connection as if you have been there before.
You are attracted to the bizarre and fascinated by people who are different.
You like to wear black and prefer your clothes to be made of natural fabrics.
You like your food fresh, not processed. Processed food tastes dead.
You understand that the deeds you do are returned to you, threefold. You believe in karmic law.
People like to tell you things and share secrets, worries, and their inner thoughts.
You prefer cats to dogs – mostly. You like all animals generally, it's just that you admire the couldn't-care-less attitude of cats.
You like making connections between the past and present. You feel that the past is embedded deeply in your being. You feel the pain endured by your ancestors keenly. In fact, you may even experience unexplained flashbacks – from previous lives.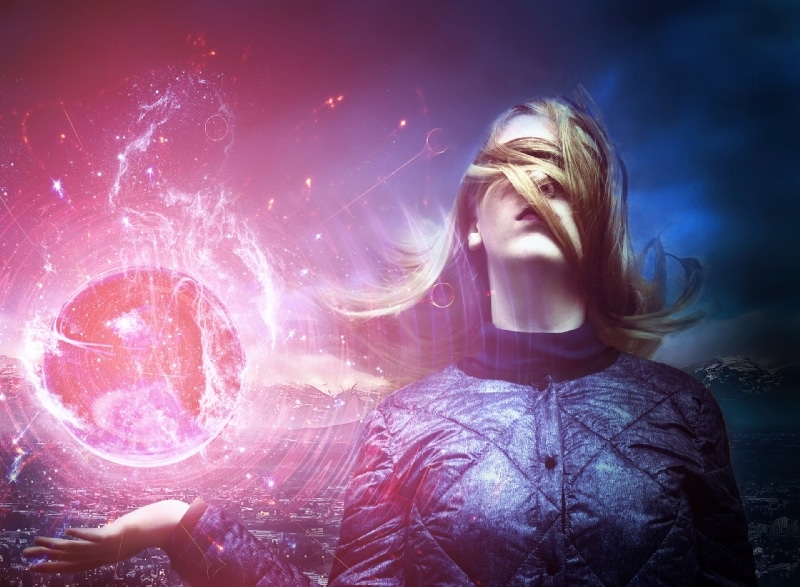 Now You Know You Are a Witch
So, you feel this extraordinary connection, this power within – what are you going to do with it?
You can connect with others like you. Witches love technology so the Internet is like a second home to them. Find groups of like-minded people, confess you are new at all this and you'll be welcomed into the fold. If you are lucky, there may be a gathering (a moot) near you. Go along, you'll be surprised how friendly people are there.
You can research. You can read about witchcraft (witches are renowned for their extensive collections of witchy books). You can teach yourself about the things that fascinate you.
Focus on one particular aspect of magical work. Perhaps you'd like to learn tarot or develop your healing skills.
You could decide to be a solitary witch. One who practices alone. Turn your home into a magical retreat. Create a witchy garden. Grow herbs. Make potions.
A Self-Study Course in Witchcraft
If you wish to learn more about being a witch, here are some suggestions where to begin.
The Wheel of the Year. Learn about the traditional witch sabbats and celebrations.
Moon phases. Witches are strongly in tune with the Moon. Learn about moon phases and how they can be used to your advantage.
Circle casting. Casting a circle is essential when performing ritual or magic. Learn about the quarters and the guardians.
Healing. Witches are natural healers – of both mind and body. Delve into the healing modality that attracts you the most.
Energy. Energy underpins everything a witch does. Learn how to feel it.
Music. Explore the huge variety of witch-related music available.
Traditions. Learn about the different strands of witchcraft: traditional, Wicca, solitary, etc.
Recommended Reading for the New Witch
The Modern Guide To Witchcraft: Your Complete Guide to Witches, Covens, and Spells by Skye Alexander.
Of Witchcraft and Whimsy: A Beginner's Guide to Basic Witchcraft by Orriculum Rose
Wiccapedia: A Modern-Day White Witch's Guide by Shawn Robbins
Witchcraft: Witchcraft for Beginners: A Guide to Bringing Real Witchcraft Spells and Witchcraft Rituals into your Daily Life by Edith Yates
Green Witchcraft: Folk Magic, Fairy Lore & Herb Craft by Anna Moura.
Should you need advice on any aspect of psychic development, contact one of our incredible Psychic Advisors.